Given IMDEA Materials Institute only opened its doors in 2007, there haven't yet been many opportunities for multiple generations of the same family to join its ranks.
One of the rare exceptions, however, can be found in the case of former postdoctoral researcher Dr. Olben Falcó Salcines. Dr. Falcó worked at the materials science institute from 2014-2017 where he specialised in designing and simulating new materials for aeronautical applications.
And while he has since spent the past five years in the private sector and most recently at the University of Oxford, the Falcó name has not been absent from IMDEA Materials´ laboratories.
That's thanks to the researcher's son, Oliver Falcó, who recently completed an internship at the Institute. And the Falcó family connection doesn´t stop there.
Dr. Falcó´s wife, Yurivania, also previously collaborated with IMDEA Materials while completing her PhD with the University of Girona. In short, one could say the last few years at the Institute have been something of a Falcó family affair.
Dr. Falcó said that his own positive experience during his time at IMDEA Materials meant he had encouraged his son to take up the internship opportunity.
"I wanted him to get experience using the machines in the laboratory, not just with computer-based simulations," Dr. Falcó said. "Obviously, I know the environment there at the Institute and the excellent lab staff so I was very happy he was there.
"I was joking with him that he was working in such a great place that I wanted to be working with him there as well in the near future, but who knows!
"Having the opportunity to work alongside [my wife] as well, even though it was only for a short time, was a lovely experience also."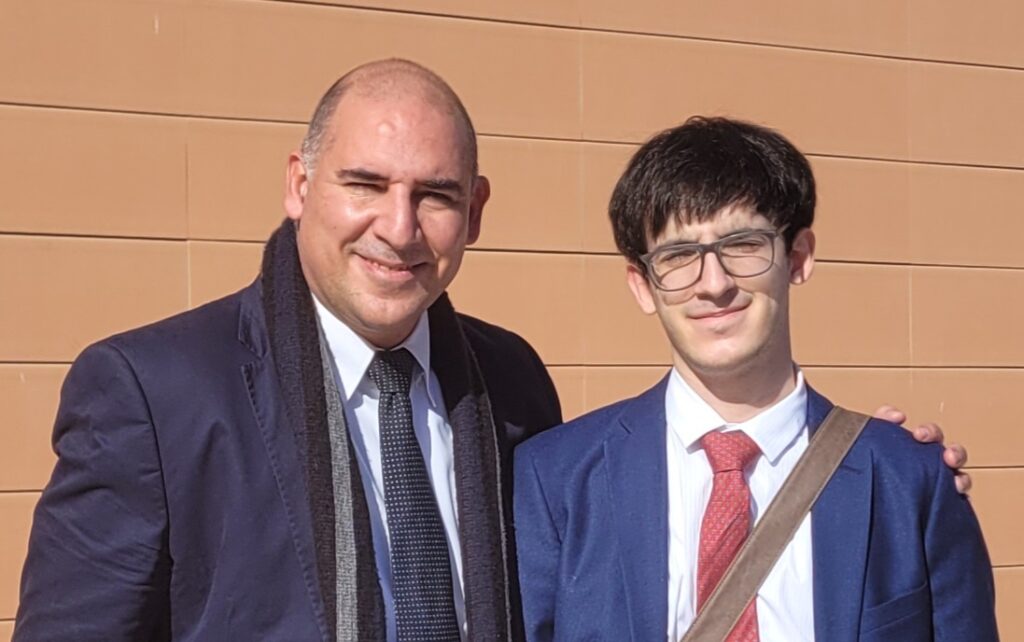 Dr. Falcó joined IMDEA Materials after completing his PhD in the Analysis of Process-Induced Defects on Steered-Fibre Panels for Aeronautical Applications at the University of Girona.
While at IMDEA Materials, Dr. Falcó was heavily involved in the VIRTEST project with Dutch company GKN: Fokker Aerostructures. This involved working closely with then-senior IMDEA Materials researcher Dr. Cláudio Lopes and Professor Carlos González, leader of the Institute's Structural Composites group.
The project required the development of a novel multiscale simulation strategy to predict the mechanical behaviour of aeronautical composite laminates structures under static and low-velocity impact loads. The ultimate aim of VIRTEST was to significantly reduce the number of physical tests required for material certification, thus shortening the time necessary to design new aerospace structural components.
In addition to VIRTEST, the researcher was involved in other collaborative projects related to the aeronautical sector, including REDISH – "CROR Engine Debris Impact Shielding. Design, Manufacturing, Simulation and Impact Test Preparation" and SIMSCREEN. Both projects between IMDEA Materials and Airbus Operations SAS, France.
After a two-year stint in the private sector following his departure from the Institute in 2017, Dr. Falcó has most recently been working with the University of Oxford's Impact Engineering Laboratory.
At Oxford, Falcó has continued with his research lines focused on the aeronautical industry, working as a researcher in impact engineering with composite materials for aerospace applications.
This has involved working on projects linked with Rolls-Royce's next-generation Ultrafan turbofan demonstrator, a project in which IMDEA Materials has also played a role.
Simulation has become increasingly prevalent in materials characterization in recent years and offers many advantages to traditional experimental tools.
However, Dr. Falcó highlighted the challenges that yet remain in the field, especially relating to simulations of large-scale parts or components, which researchers will be striving to overcome in the coming years.
"For example, right now we are working with Rolls-Royce on their new UltraFan turbofan demonstrator project and what we have realized is that there are still a lot of challenges when you're dealing with larger structures," Dr. Falcó said.
"Even when you can use high-powered computational resources, it's quite difficult to simulate the full structure due to the size of the model.
"A lot of people are working on this now at a multi-scale level; to be able to analyse these large structures while, at the same time, being able to use sub-models to be able to study much smaller individual elements of the whole structure at a very detailed level."
And moving forward, Dr. Falcó didn´t rule out the possibility of future collaborations with IMDEA Materials.
"I think we've seen over the past couple of years with all of the greater possibilities for remote work that now exist, that there are a lot of different types of global collaborations that are more possible than ever before," he said.
"I'm definitely keeping an eye on IMDEA Materials and any opportunities that might come up in the near future."
You can read a complete transcript of our interview with Dr. Falcó on our website here: https://materials.imdea.org/olben-falco/