A delegation from the US Air Force Research Laboratory (AFRL) and the Air Force Office of Scientific Research (AFOSR) recently visited IMDEA Materials Institute´s facilities with the objective of exploring possible future lines of collaboration in the field of materials science and engineering. Besides delegates from the AFRL and AFOSR, representatives from the US Army International Technology Center, the Defence Cooperation Office of the US Embassy in Spain, as well as the National Institute of Aerospace Technology (INTA), were also part of the delegation. INTA was also the organizer of the meeting.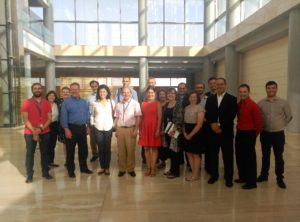 The US delegation had the opportunity to visit the research laboratories of the institute and meet the management and the research program leaders of IMDEA Materials Institute.
This important visit falls within the framework agreement, signed in 2015, to foster and promote cooperation in R&D between the US Defence Department and the Spanish Ministry of Defence, being advanced materials one the selected areas of potential collaboration.