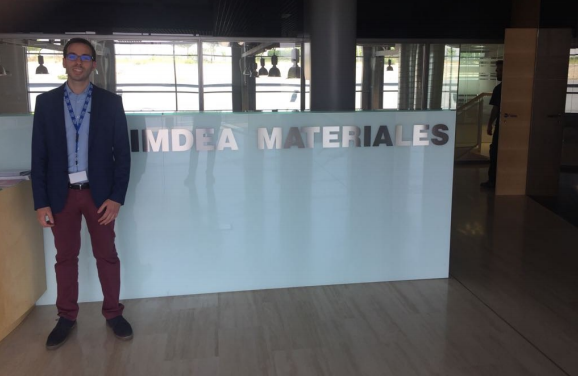 Arcadio Varona finished his PhD at IMDEA Materials in 2016, under the supervision of Ilchat Sabirov and Teresa Pérez Prado. Later on, he joined GRUPO ANTOLIN-EUROTRIM as quality engineer.
Starting this interview, would you explain us how your scientific vocation born? When and why did you take the decision to become a scientist?
Since I was a kid, I was always very curious of what was inside things. I dismounted (or tried to) all things I could get my hands on. I did even say I wanted to become a scientist at that age. However, I was more destroying things and exploring the world than actually creating anything I guess.
Later, for my university studies, I decided to go for aeronautical engineering, with major in aeronautical equipment and materials. At the beginning I chose it because of the subjects in propellants, missiles, ballistics and weaponry. I found the idea interesting, maybe because it had to do once more with destroying things! However, as I started the material-related subjects, I began to find the theory and mechanisms increasingly interesting. So, I ended up doing my final degree project at IMDEA materials, with subject ultrafine-grained Zirconium. I was supervised by Ilchat Sabirov and Teresa Pérez Prado, and the experience was so positive with them, that I took their advice and continued my studies in materials engineering.
After finishing my studies, I already knew I liked the research carried out at IMDEA, but my first idea was to start an internship in a company, so I could have both perspectives. Unfortunately (or fortunately), the situation at that moment was probably at its worst, and for many months I could not get an internship as I expected. I decided then to apply for some positions I found interesting at IMDEA, and finally I was lucky!
What do you value most about your PhD stage at IMDEA Materials?
Without a doubt, that would be the people I shared the time with. Both professionally and personally, I found great researchers, PhD students, technicians, and in general great colleagues.
What do you think was the greatest accomplishment of your PhD?
Probably the answer is finishing it. As for all PhD students, there were very tough moments, where no progress could be achieved. When these "deadends" extended for long periods of time, it felt incredibly frustrating. Continuing was not easy without the support I got.
If I had to say one specific thing, that would be having set the melting facilities from the ground, up to an initial operative level for further research. This was not my accomplishment, but of all the people of the team. However, I like to think that my contribution was helpful.
How was for you the transition to looking for a job in the industry?
When I finished the degree, I didn't have the opportunity to get a job in the industry. Ever since then I was curious about it. But at the end of the PhD I was also thinking about doing an industry-related postdoc. Indeed, I applied for a couple positions too.
For me, there was not much time for a transition. At the end of the PhD I prioritised finishing over job seeking, and applied for very few positions. Just before finishing and starting a real job search, I got a positive answer to join Grupo Antolin and decided to take the opportunity.
Now that you are working at Grupo Antolin, one of the leading companies of the automotive sector, can you tell us what do you enjoy the most about it and what are your current research lines? Did the company provide you with a career development plan?
My current job position is as quality engineer at GRUPO ANTOLIN-EUROTRIM, a factory that produces car headliners. From the little experience I have, the work in an automotive factory is very hectic: There are always problems to be solved while the production has to be maintained. This means to be a lot of time on the field, and understand how the product is made. Also, being in customer quality, I am in contact with customers and know about issues of the product in the final assembly or during service life. Of course it is not always enjoyable, but I find it interesting so far.
There are no actual research lines in the factory; however, due to my curiosity and research background, I soon got involved with the testing carried out at our laboratory, the characterisation of some products and with the different 3D measuring techniques available.
For now, my career development has started taking over quality duties, as Grupo Antolin wants to promote a compromise with quality as a working ground before moving forward. On the other hand, due to the size of the company, there are many opportunities to change department, working place, etc. for the workers development. Within these, there are powerful R&D centres, which would be one of my goals to grow. However, I think it is still soon for that.
How valuable are for your current position the skills you obtained during your PhD and which other ones you feel missing now that you have some perspective about it?
I think there are many skills that have been valuable in some way if not all. On the other hand, as the goals of work here at the factory are quite different, it is common that the urge prevails over other things. Managing this would be one skill that I missed as I entered here. Also, during the PhD there are some moments where you work as a small team, but I found them happening in a friendly atmosphere. In the factory there is contact with much more people, including customers. Due to the
immediacy of things, this contact is many times not friendly and requires skills to manage the situation.
What are your future perspectives? Do you consider returning to an academic environment or do you think you'd rather look for stability in the industry?
For the time being, I would like to continue learning how does the industry work, the development of a project from the beginning to the start of production, and all procedures related. I also find interesting to learn about the path followed by the parts out of the factory, when they reach the component assembly plants until just-in-time or just-in-sequence production.
Nevertheless, as I said, I got soon involved in laboratory/metrology-related tasks. Therefore, a future perspective would be to reach a more R&D-oriented position in the industry. I think it is more dynamic than the academic environment, which is something that I like. Still, due to the PhD, I know the time that is needed for a proper research and I'm not sure if research within the industry will be the answer. Thus, I don't rule out the possibility of returning to a more academic environment given
the case.