While most postdoctoral researchers dedicate their careers to either industry or academia, IMDEA Materials alumni Dr. Miguel Herráez decided to forge his own path.
Dr. Herráez is the founder of TecnoDigital School, an online platform that offers trainings by means of courses, seminars, and consultancy services to students, researchers and industry professionals.
Through it, he aims to pass on knowledge gained from years of professional experience with companies like Airbus and Telefónica, but especially as a researcher at IMDEA Materials and the Swiss Federal Institute of Technology (EPFL), and as a lecturer at Rey Juan Carlos University in Madrid.
"Most people go into academia or move to industry after their PhD, which are both obviously great options," he said. "But I found that you can also take advantage of what you know and what you've learned and use that to start your own business or become an entrepreneur."
"When I was in that situation myself of asking for advice and deciding what I wanted to do following my PhD, it wasn't an option that was talked about because nobody that I knew had done it. So, it's more a case of heading into the unknown, and I certainly had a lot of doubts and uncertainties, but it can be done."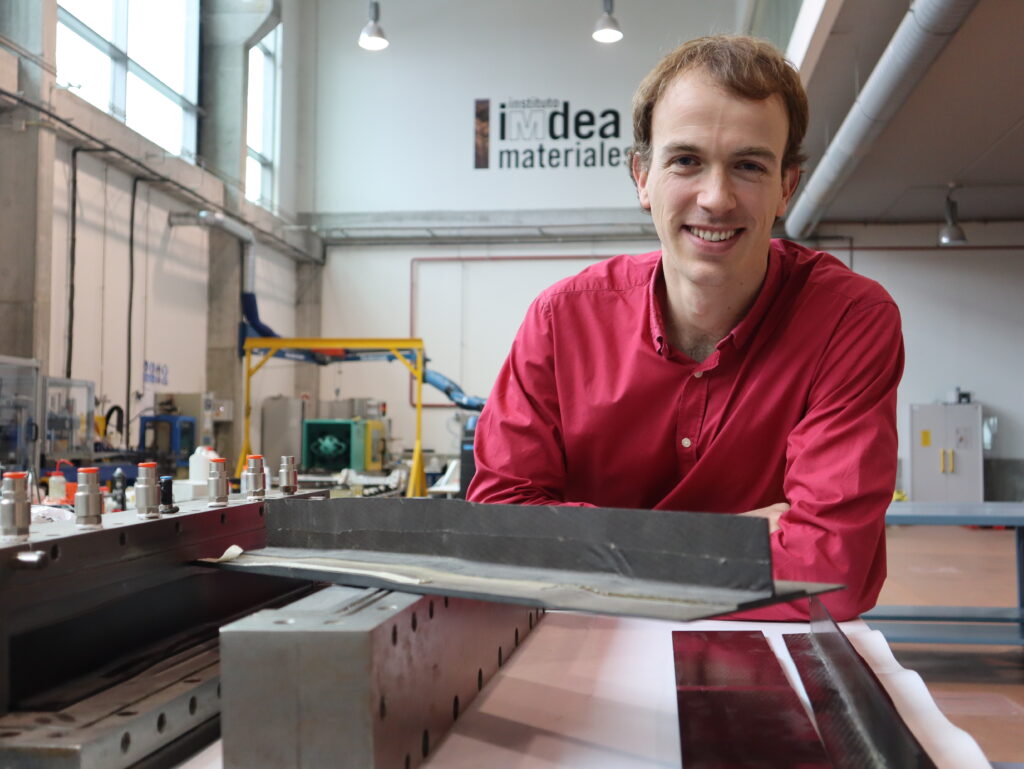 Dr. Herráez was working as a lecturer at Rey Juan Carlos University in Madrid when he decided to take the plunge in launching TecnoDigital School.
Having only taken up his lecturer's position a year earlier, he acknowledges there were plenty of doubts about his new entrepreneur career. And these doubts were not just his own.
"When I decided to leave RJCU, it came as quite a shock to a few people, especially my parents," he admits. "But they trusted me, and they realized that if I put the effort into it, I could make it a success."
Dr. Herráez joined IMDEA Materials in 2013, where he completed his PhD in conjunction with the Technical University of Madrid (UPM) in developing computational micromechanics models for the analysis of failure mechanisms in fiber-reinforced composite materials.
During his time at IMDEA Materials, the Madrid native had the opportunity to spend three months at NASA Langley Research Centre in Virginia, the United States. It was his second research stay in the US, having previously spent six months at West Virginia University (WVU) while completing his bachelor's at Carlos III University (UC3M) in Madrid.
As a former employee of one of the world's largest aerospace firms, a researcher in both Spain and Switzerland, a university lecturer, and now businessman, Dr. Herráez has had no shortage of differing professional experiences over the past decade.
However, he said he would always remember his four years at IMDEA Materials with particular fondness.
"I have very good memories of my time at IMDEA Materials," he said. "I could say that it was a place where I really enjoyed going to work, but in reality, it didn't even feel like work."
"Every day was about trying to find solutions and asking myself what I would discover that day. Obviously, not every day was fun and games. There were plenty of failures as well. But that's what made the successes so great."
"The other thing I miss is the wide variety of people, languages and points of view that I was exposed to daily. Any time you went to grab a coffee, the person sitting in front of you might have been Polish; the person on your right was maybe Chinese, and on your left, they could have been from Iran or the UK. Every day was different. So, that was a really enriching experience that changed my life."