The need to reach beyond its own neighbourhood in the search for scientific talent is one of the key drivers behind IMDEA Materials' international collaborations with some of the world's leading universities.
Such collaborations have led to the Madrid-based centre becoming one of Spain's most diverse scientific institutions, with roughly 55% of its researchers hailing from overseas. And aside from enriching its own scientific capabilities, IMDEA Materials has also been a key player in promoting the country as an attractive destination to carry out cutting-edge investigation.
"If you are trying to attract talent, you can't restrict yourself to just your own neighbourhood because otherwise, you're missing out on a lot of people," IMDEA Materials senior researcher Dr. Damien Tourret said. "There are a lot of outstanding centres in other countries that we are trying to collaborate with.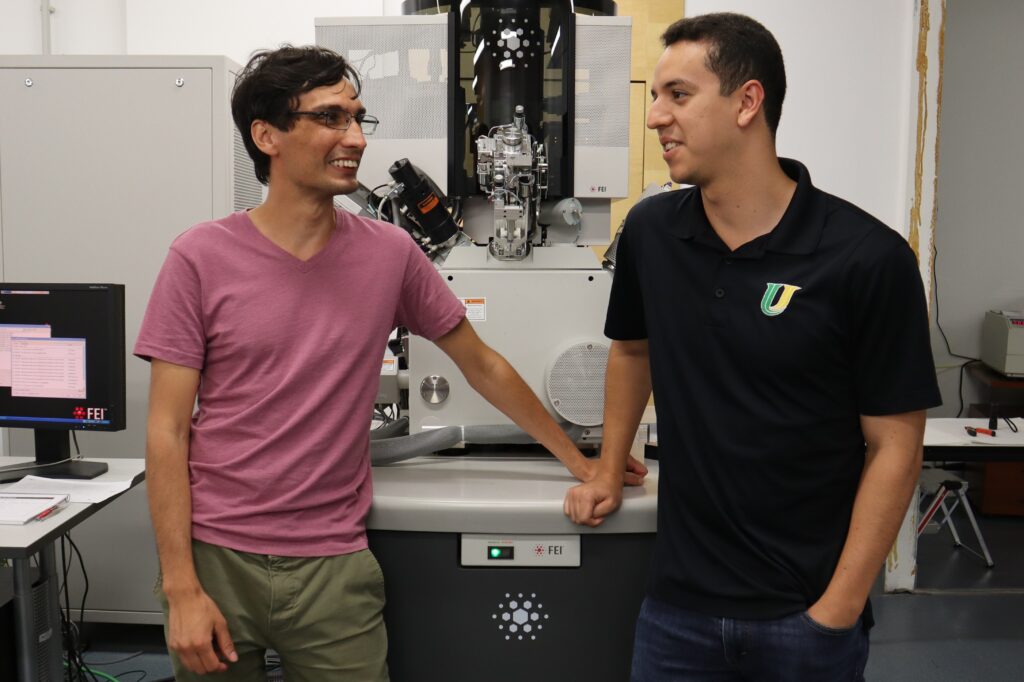 "We can find complementary skills in a lot of different places which not only makes our research better, but also helps other institutes and universities."
Two such collaborations include those with Ireland's NUI Galway and Texas A&M, the United States' largest public university.
It was through Texas A&M that predoctoral researcher and University of Illinois Urbana-Champaign graduate Jose Mancias found his way to IMDEA Materials from across the Atlantic.
Connections made during an internship at the US Naval Laboratory led him to a grad school position with the renowned university, which provided the opportunity for the 24-year-old to link up with IMDEA.
Specialising in phase-field modelling of additive manufacturing materials, Mancias has been able to split his four years of predoctoral research between Spain and the US, with an advisor in each location. And he said that had served to enhance his abilities as a scientist.
"I think that it's enabled me to have a change in scenery which is good as it helps me to get a different perspective as a researcher," he said. "IMDEA and Texas have two very different sets of resources and in my own experience at least, very different styles when it comes to research and publishing papers. It's definitely a positive to be able to take advantage of those differing ways of doing things".
Dr. Adrian Boccardo is another member of IMDEA Materials' international cohort, having moved to Spain from Argentina in 2021 as part of a postdoctoral research collaboration between IMDEA Materials and NUI Galway. The COVID-19 pandemic initially led to the 34-year-old researcher being forced to spend three months teleresearching from his homeland before finally being able to secure a visa in June last year.
In his time since arriving in Madrid, Dr. Boccardo's work has focused on phase-field modelling relating to titanium alloy transformation. And while the main element of his own research is carried out via simulations, he said that the wide scope of scientific investigation carried out by IMDEA Materials was one of its most attractive features.
"For me, one of the main benefits of being in IMDEA Materials is that half of the institute is dedicated to experimental work and the other half to simulations," Dr. Boccardo said. "That means I have a number of colleagues doing experiments who I can talk to which can help my work. I even have the opportunity to do some experiments myself quite easily because of the facilities we have here".
"Just focusing on the simulation side, there is so much knowledge and expertise here among the researchers that isn't possible to find in many other places."
Are you interested in joining the IMDEA Materials team? Check out our open positions at https://jobs.materials.imdea.org/