Every month, we welcome new members of the IMDEA Materials team. Here, you can find a short profile of our most recent additions, including their upcoming role with IMDEA Materials and their educational and professional background.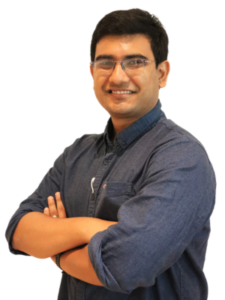 My name is Monsur Islam, and I am from India. I received my PhD in Mechanical Engineering in 2018 from Clemson University, USA. Following my PhD, I joined the Karlsruhe Institute of Technology (KIT) in Germany as a postdoctoral researcher and was subsequently promoted to the role of Group Leader.
My research interest includes advanced manufacturing of carbonaceous materials for biomedical and biotechnological applications. In KIT, I was working on fabricating carbon-based materials, both 3D structures and flexible devices, for 3D cell growth and bioelectronics respectively, as a part of the 3D Matter Made to Order research excellence cluster.
I joined IMDEA Materials Institute thanks to the 2023 Marie Sklodowska-Curie Postdoctoral Fellowship programme to carry out research on the 3D printing of pyrolytic and graphitic carbon materials for tissue engineering applications.
Outside research, I cherish spending time with my family and friends, and have a passion for cooking. I also love reading books and travelling to new places.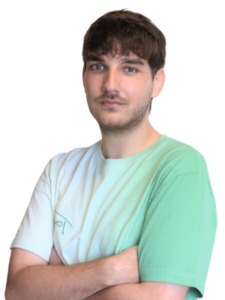 I am Milan Dunic, and I hail from Belgrade, Serbia. My educational background includes a bachelor's and master's degree in Electrochemical Engineering, both conferred by the University of Belgrade. My passion for research and an innate curiosity have propelled me towards pursuing a doctoral degree.
Motivated by the desire to make tangible contributions to the realm of science, my primary areas of interest lie within the domains of energy power systems, sustainability, and the exploration of alternative power sources.
In September 2023, I embarked on a journey with IMDEA Materials Institute, where I have been granted the opportunity to engage in a project aimed at the development of flexible Li-ion batteries tailored for implantable devices used in the treatment of brain tumors through electrical field applications (the DITTCe project).
Beyond my professional pursuits, I find solace and joy in spending quality time with friends and family, exploring new places and indulging in literature. This is my first time in Spain I would love to explore the beauty of Madrid and other famous Spanish cities.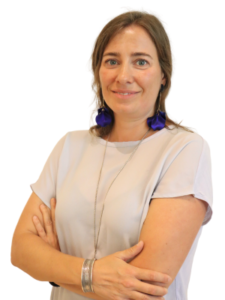 Hi! My name is Lucía Doyle and my research interest is the design of multifunctional materials and structures through green engineering. I studied chemical engineering and a MSc in energy and fuels at the Autonomous University of Madrid (UAM), a masters in design and management of technological projects at UNIR, and a PhD at the HafenCity University Hamburg with the title: "A Circular Economy Approach to Multifunctional Sandwich Structures: Polymeric Foams for District Heating Pre-Insulated Pipes".
Thanks to a Marie Skłodowska-Curie post-doc fellowship I am pleased to join IMDEA Materials to work on the manufacturing of functionally graded porous Polyether ether ketone (PEEK) by combining physical foaming with additive manufacturing.
In my free time I enjoy spending time with my family, yoga and live music.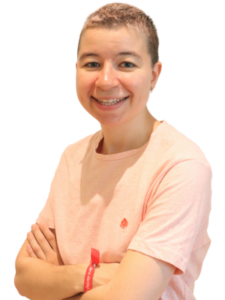 My name is Almudena Gutiérrez Batista, and I am from Gran Canaria, Spain, although I have been living in Madrid for seven years.
I graduated in Chemistry at the Complutense University of Madrid (UCM). Then, I had the great opportunity to work at the Spanish national Research Council (CSIC) for two years and four months thanks to the Youth Guarantee grant. There, I went into the field of tribology and physical chemistry. In the latter, I was able to co-author an article.
Currently, I am specialising in Nanoscience with a master's degree in Chemical Science and Technology (UCM). I am also starting a new stage of research at IMDEA Materials in an important European project known as AID4GREENEST.
My favourite things to do outside of work are going out with my friends, playing sports and playing the guitar.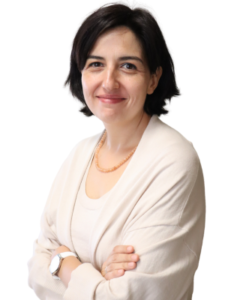 My name is Estela Izquierdo and I have taken on the role of Project Manager at IMDEA Materials Institute.
After completing my degree in Chemical Engineering at the Rey Juan Carlos University in Madrid, I directed my career towards the management of European R&D projects in the chemical industry sector.
Eight years ago, I had the opportunity to embark on a new professional adventure in Brussels, where I worked on the development and management of multi-stakeholder groups and European associations for the plastics industry.
This experience allowed me to gain firsthand knowledge of how European institutions operate and the various actors involved in research programs (EU research funding programs).
Back in Madrid, working at IMDEA Materials allows me to continue my professional development in the management and promotion of European R&D projects alongside the best researchers and technicians.
Traveling and cooking are my two passions, and whenever I can, I try to combine both by indulging in a bit of culinary tourism.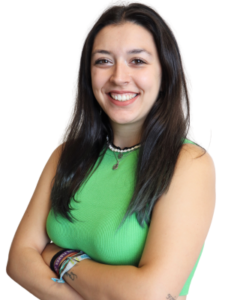 My name is Ángela García de la Camacha Díaz, and I'm from Ciudad Real. I graduated in Mechanical Engineering from the University of Castilla-La Mancha, where I began to develop an interest in research. This led me to pursue a Master's degree in Materials Science and Engineering at the Carlos III University of Madrid.
During my undergraduate and master's studies (TFG and TFM), I was involved in projects related to Additive Manufacturing. That's why I decided to join IMDEA Materials in September 2023 to pursue my Ph.D. in 3D Printing of bioabsorbable scaffolds.
Outside of the scientific environment, I am a passionate lover of art in all its forms, especially painting, poetry, and dance. I love to travel and discover new places and people.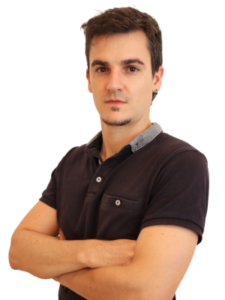 My name is Sergio, and I'm from Segovia (Spain). I'm an electronic technician,
I design and build electronic prototypes. I joined the IMDEA Materials team in September, 2023.
In my free time, I enjoy spending time with friends, ordering food, visiting places, or simply relaxing at home while watching a stream.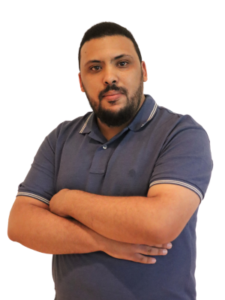 My name is Radouan BOUALLALA, and I am from Morocco. I completed my first master's degree in "advanced materials" in 2018 from Cadi Ayyad University. In 2023, I received my second master's degree, "The European Master Course in Advanced Structural Analysis and Design using Composite Materials," from the universities of Girona, Spain, and Minho, Portugal.
During my master's, I worked on the GAVIÃO project, part of the Research and Development of Technologies for the Production of Large-Scale Aircraft Components.
I joined IMDEA to work specifically on the Hybrid-Electric Regional Architecture (HERA) project. My work focuses on modelling damage in composite materials. For me, IMDEA is a solid environment to work in and develop my career in composite materials.
Outside of work, I enjoy spending time with my friends and watching football. Also, I enjoy cooking.