IMDEA Materials Institute researcher Juan de Pablos Gómez can't pinpoint exactly when his interest in the far reaches of the universe beyond our own small corner of the Milky Way first arose. It´s just something he assumes he was born with.
But from his youngest days visiting the Madrid Planetarium with his family where he first learnt about galaxies and solar systems, the 32-year-old is now living his dream, conducting mission analysis and navigation for the satellites of today, and the space travel of the future.
De Pablos recently completed his PhD at IMDEA Materials as a member of the Institute's Computational Solid Mechanics Group led by Professor Ignacio Romero.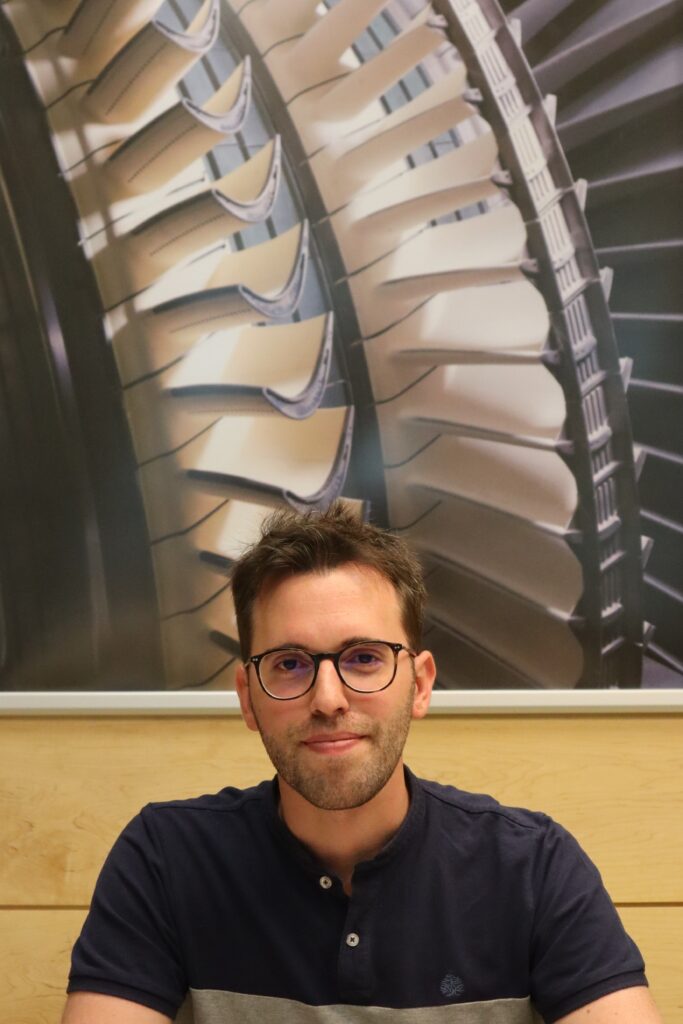 During his time at IMDEA Materials, de Pablos completed a five-month stay with NASA's Jet Propulsion Laboratory (JPL) based in California. While the pandemic meant his collaboration with the JPL was ultimately carried out online, he still played a key role in a project aimed at analyzing and improving instabilities in folding mechanisms during the deployment of satellites in space.
"When you launch a spacecraft, it needs to be folded because of the restricted space for cargo that can be carried into space onboard a rocket," de Pablos explains.
"The fact that they are then able to unfold in space means you can create huge structures. However, this unfolding process is also an unstable event and can lead to collisions between different parts and the failure of the mission".
"My role was to design and run simulations that could help to improve these unfolding mechanisms to both reduce the risks involved and also to improve the speed at which these operations can take place."
De Pablos' time at the JPL, which led to the publication of two scientific papers on the Detection and Mitigation of Transient Instabilities in Deployable Booms and Multi-Agent Control Approach to the Stability of Linear Deployable Systems, only heightened his interest in pursuing a career in the space sector.
And it wasn't long before the Technical University of Madrid graduate was able to parley his experience into a position with the Tres Cantos-based Deimos Space. Since joining, de Pablos has been heavily involved in the European Space Agency's Galileo project, Europe's own global navigation satellite system.
"Right now, the European Union wants to send second-generation satellites into space in order to provide better navigation on earth," de Pablos explains. "I have been working on that project in the mission analysis and navigation group".
"But in the future, there will hopefully be opportunities to work on inter-planetary missions to Mars for example, or to do science on other planets or bodies in our solar system".
"I certainly wasn´t expecting to be working on something so interesting so quickly, especially before I even finished my PhD thesis," he added. "In a way you are kind of like the navigator of a ship in the 15th century, heading out into the unknown and you have to believe you can do what needs to be done to complete the mission."
Such a rapid career trajectory in the space sector is something that would have been highly unlikely even just a few years ago.
The last decade, however, has seen a renewed interest in spaceflight among both private companies like American aerospace corporation SpaceX, and governments around the world.
"In a way, we are currently living a new space age," de Pablos says. "There have been a lot of contributing factors to this but the main one for me has been the emergence SpaceX over the past 10 years or so.
"They have been able to lower the costs of putting payloads into space and they've been able to open up access to space to other companies, not just governments.
"All of the new technology that they have developed, new manufacturing techniques, recoverable rocket stages; SpaceX really marked the beginning of a new era which we are now seeing in the public and private sectors."
This new era is evidenced by the fact that the next few days will see the first flight of NASA's Artemis program which the agency hopes will lead to its first manned mission to the moon since 1972.
The Spanish government, meanwhile, is currently in the process of identifying the future headquarters of the Spanish Space Agency, with Tres Cantos one of several short-listed locations.
In short, this all means that de Pablos' dreams of being involved in inter-planetary missions and even a future manned trip to Mars may be realized within the not-to-distant future.
But even should he reach the stars, that doesn't mean that he will forget the crucial role IMDEA Materials Institute played in providing him with the springboard to future success.
"There are some things that IMDEA Materials can offer you that other research centres can't," de Pablos affirms. "In my case, the research stay I was able to enjoy at the NASA JPL, for example, was an amazing opportunity for me.
"And then even before finishing my PhD, I was hired by a company in the space sector. There's a huge number of things that IMDEA can provide researchers and I think it's a really special place for a PhD student."