– Researcher Jonathan Espinoza underlines that the automation of X-ray computed tomography (XCT) represents a clear opportunity to reduce costs and save time at both the industrial and research level.
– Espinoza holds a scholarship from the Youth Employment Program of the Community of Madrid and has a master's degree in Composite Materials, Aerospace Engineering, Aeronautics and Astronautics from the Polytechnic University of Madrid.
The possibility of analyzing the internal properties of new materials or technological components faster and at a lower cost.
This is the promise of Institute IMDEA Materials' advances in computed tomography automation, which could result in significant benefits for many manufacturing sectors including the automotive, aeronautic, space, defence and wind energy industries, among others.
Computed tomography is a non-destructive 3D imaging technique based on the use of X-rays to analyze materials.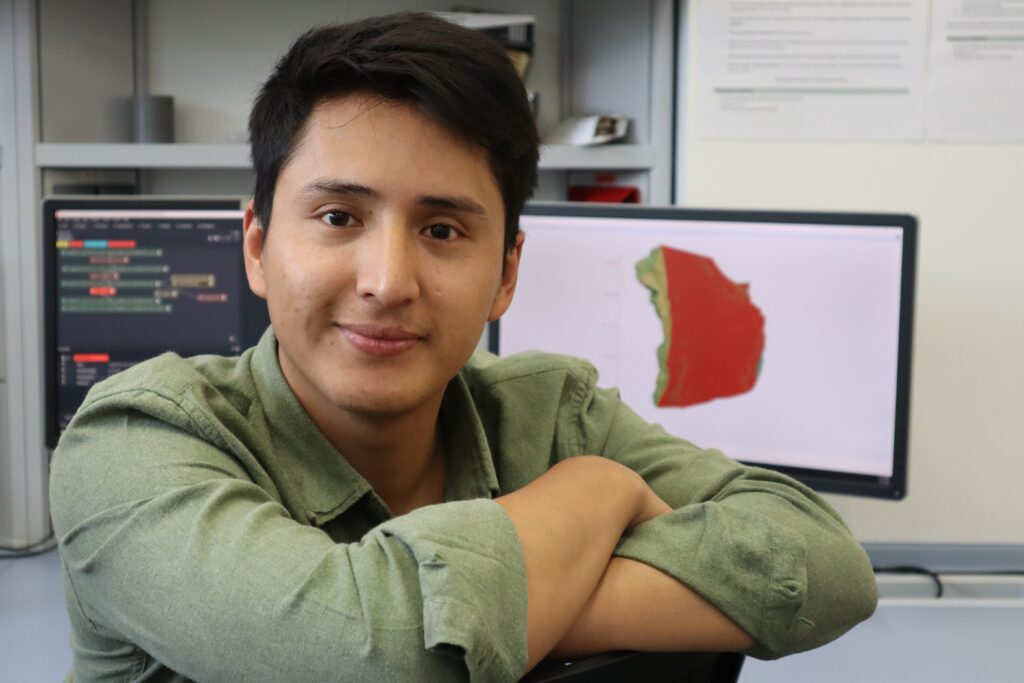 When a company wants to launch a new product or component on the market, it is vital to understand the characteristics of the material it is made of, and also how it will behave under certain conditions, such as extreme temperatures or while under stress.
"Computed tomography allows us to see inside the material without causing it any damage," explains Jonathan Espinoza, a predoctoral researcher at IMDEA Materials and a member of the In-Situ Materials Processing and Characterization research group led by Dr. Federico Sket.
"Imagine the typical X-ray of the teeth that your dentist shows you, but now in three dimensions, it's great. It shows us internal details at the microscopic level, the study of which can be of critical importance and of interest in certain industries. Unfortunately, the existing processes for handling this information are slow and expensive.
"With the application of Artificial Intelligence (AI) computing models, we can automate many of these and save time and money. Processes that used to take a month to complete will be able to be done in as little as a week. So, the benefits are really encouraging."
In his work at IMDEA Materials, Espinoza is involved in research activities in some of the most cutting-edge fields of tomography, such as machine learning and deep learning.
Thanks to the application of these advanced tools, Espinoza is contributing to the development of new ways of optimizing the computed tomography techniques used today.
"This is also a step towards the digitization of data, and will push additive manufacturing even further towards Industry 4.0," Espinoza adds.
Recently, Espinoza put these cutting-edge techniques into practice as part of research into parts of a new turbine model for the aerospace industry. The goal? To arrive at a lighter component with better performance.
In addition to collaborating with other research entities in the region, such as the Carlos III University of Madrid, he is also involved in several collaborative projects at both regional (MAT4.0) and European (DYNACOMP) levels, in which computed tomography plays an important role.
The 29-year-old researcher has been with Institute IMDEA Materials for almost 5 years now and is currently on a grant from the Youth Employment Program of the Community of Madrid. This program has given him the opportunity to continue his training as a researcher in the field of advanced materials characterization.
He says that, in the R&D sector, "you never stop learning," but that he sees very clearly that his future lies in that direction.
"Looking ahead, I would like to specialize in machine learning and artificial intelligence techniques for image processing, but applied to materials science. These types of techniques are already used in other fields and companies, such as Tesla for autonomous cars," says Espinoza.
"I think being able to apply some of these methodologies to XCT techniques would create new ways to extract data, discover correlations with material behaviour and do it faster than now, which will result in a considerable cost reduction at the industrial level."