Dr. Tourret was officially presented with the award at the annual meeting of the Minerals, Metals and Materials Society (TMS).
The researcher is an expert in the fields of computational modelling and simulation of microstructure formation and evolution in metals and alloys
Dr. Damien Tourret, leader of IMDEA Materials' Modelling and Simulation of Materials Processing research group, has been named the 2023 Young Leaders International Scholar by the American Minerals, Metals and Materials Society (TMS) and the Japan Institute of Metals and Materials (JIM).
The recognition, which is awarded jointly by both organisations recognises an early-career individual for their potential as a future leader in the society and the materials and engineering community at large.
Dr. Tourret was on hand to receive the award during the TMS Annual meeting in San Diego, California, where he said he was "honored to receive this recognition from my peers and grateful to the TMS Foundation for the great opportunities they provide for early career scientists and engineers to grow, learn, and broaden their horizons."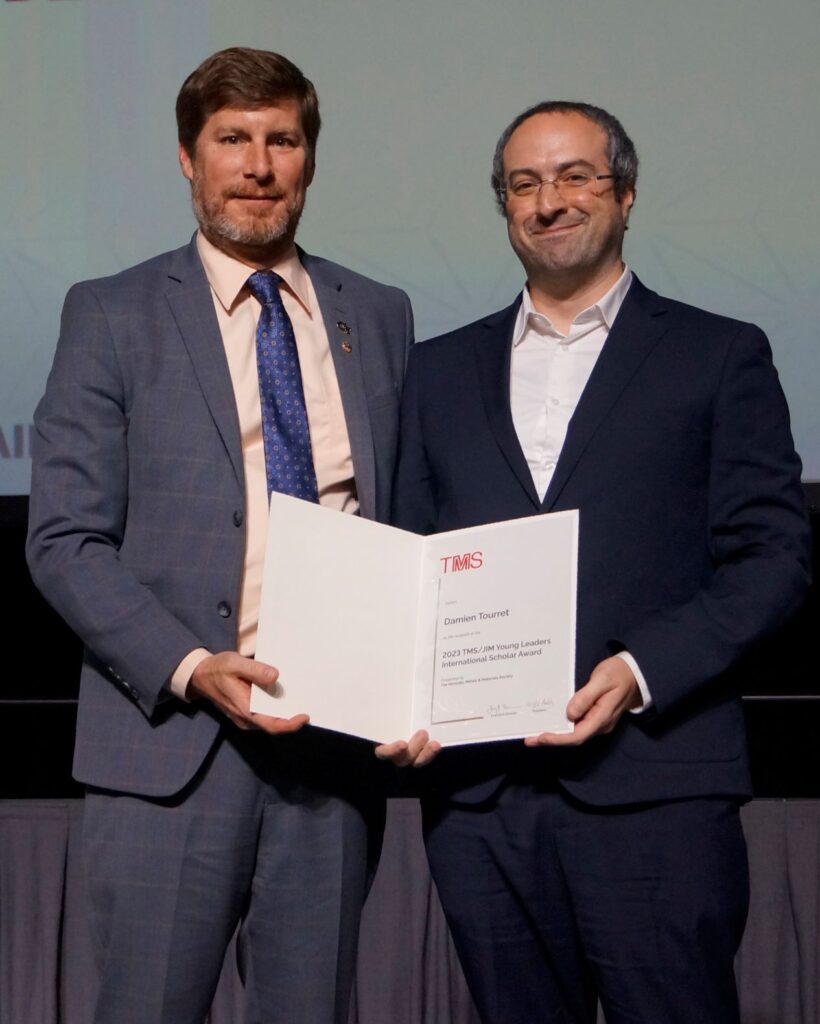 As a Young Leaders International Scholar, Dr. Tourret was also chosen to represent TMS in a collaborative exchange with its Japanese counterpart, also giving a keynote presentation at the JIM Annual Meeting, held at the University of Tokyo (UTokyo) on IMDEA's recent developments in multiscale modeling of additive manufacturing of metallic alloys.
While in Japan, Dr. Tourret also presented seminars at a number of the country's leading Universities, including the UTokyo, Kyoto Institute of Technology, Kyoto University and Hokkaido University.
There, he met with several world-leading figures in the field of high-performance simulations of solidification using molecular dynamics and phase-field approaches including Prof. Yasushi Shibuta, Prof. Tomohiro Takaki and Prof. Munekazu Ohno. He also spent time with Prof. Hideyuki Yasuda, who pioneered the use of in-situ X-ray imaging of metal solidification experiments.
Dr. Tourret's current research at IMDEA Materials involves the multi-scale modelling of solidification with a focus on metal additive manufacturing. He joined IMDEA Materials in 2017 having previously held postdoctoral research positions at Los Alamos National Laboratory and Northeastern University in the United States and at the German Aerospace Centre in Cologne.
TMS is one of the world's largest professional associations for materials scientists and engineers. The association connects minerals, metals, and materials scientists and engineers who work in industry, academia, and government positions around the world. It currently includes more than 12,000 professional and student members on all continents.
Dr. Tourret was one of two IMDEA Materials researchers to be honoured by TMS for their work in 2022 alongside the Institute's Scientific Director, Prof. Javier LLorca who became the first Spaniard to receive the association's SMD Distinguished Scientist/Engineer award.