This Saturday, February 11, is the International Day of Women and Girls in Science. To mark the occasion, IMDEA Materials is showcasing the work of three of our female researchers. In this, the second of three articles, we talk to predoctoral researcher Lucia Cobian about the European MOAMMM project.
Are you one of the millions of Spaniards who go cycling or running every day? If so, read on.
Researchers at IMDEA Materials Institute are currently working as part of a European project to design and 3D-print metamaterials, lighter than existing materials with improved shock absorption properties.
In practical terms, the project aims to utilize this new technology in two case studies, bicycle helmet and running shoe prototypes. The benefits will be having safer, lighter, more durable and more comfortable devices which can be tailored to individual users.
All this thanks to rapid advances in the fields of metamaterials and additive manufacturing (3D printing), two areas that the European research project MOAMMM aims to exploit.
IMDEA Materials is one MOAMMM's collaborating partners. The project, whose full name is the Multi-scale Optimisation for Additive Manufacturing of fatigue resistant shock-absorbing MetaMaterials, is funded by the European Union's Horizon 2020 program and coordinated by the University of Liège, Belgium. The project also involves the Université Catholique de Louvain (UCLouvain), the Institute of Polymer Products Engineering at the Johannes Kepler University Linz and German company cirp GmbH.
"Thanks to the rapid development of additive manufacturing techniques, we can now 3D print components and structures with very complex geometries, even on a submicroscopic scale that, in the past, were unthinkable," explains researcher Lucia Cobian from IMDEA Materials.
"Some of these structures are the so-called lattice metamaterials. These are composed of lattices of periodically connected rods, arranged in a particular order and purposely designed to have a set of desired properties to (in order to) meet specific applications."
"Because of the potential of these metamaterials, the MOAMMM project is focused on developing a strategy to design and 3D print lattice metamaterials for fatigue resistance and shock absorption applications. In this project we investigate and extend the current state-of-the-art analytical, experimental and numerical methods."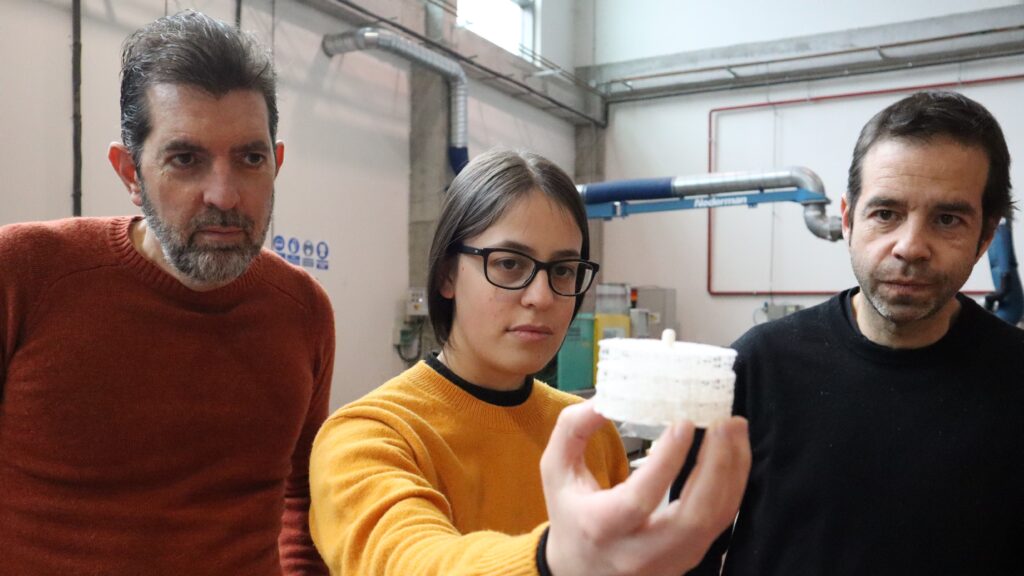 The promise of lattice structures comes from the fact that they can be designed to have high stiffness and good shock absorption qualities, while still being very lightweight.
These properties make them perfect for sports applications, an area of interest within the framework of the project. In the future however, they could be applied to many other fields, such as the automotive industry, prosthetics, and any other application that requires shock absorption.
The star of the latest project consortium meeting held at UCLouvain, was a 3D-printed helmet prototype, with an inner curvature obtained by 3D scanning of the wearer's head. The helmet on show was designed, printed and dyed by cirp GmbH.
Given the customized helmets can be printed to the exact physical specifications of the wearer, they offer comfort and adaptability in daily use.
As a researcher at IMDEA Materials, Cobian is a member of the Multi-scale Materials Simulation research group, led by Prof. Javier Segurado.
The predoctoral researcher is one of three scientists from the Institute involved in the project along with Prof. Segurado and Dr. Miguel Monclús. She is also one of three female researchers in MOAMMM, along with Ling Wu from the University of Liege, Anna Hössinger-Kalteis from the Johannes Kepler University, Austria and Fatma Karayagiz from cirp GmbH.
Her role focuses on combining experimental and simulation techniques to characterise the properties of metamaterials, and to then generate digital replicas of the volume of the physical samples.
These simulations make it possible to predict the mechanical behavior of a particular matematerial, including the fracture of the individual struts.
"At IMDEA Materials, we can perform materials characterisation at multiple scales. Specifically, my research studies how these defects in lattice materials influence mechanical behavior, as it is important to take them into account when designing them," said Cobian.
"This project has received funding from the European Union's Horizon 2020 research and development program under grant agreement No. 862015."
You can find out more about MOAMMM and follow its progress and results on Facebook (https://www.facebook.com/MOAMMM.eu), Twitter (https://twitter.com/MOAMMM_eu) and at Research Gate (https://www.researchgate.net/project/Multi-scale-Optimisation-for-Additive-Manufacturing-of-fatigue-resistant-shock-absorbing-MetaMaterials-MOAMMM).