Mónica Echeverry Rendon is a bioengineer and Postdoctoral Researcher at IMDEA Materials Institute. In this article, she follows up on last year's post celebrating the International Day of Women and Girls in Science.
Last year, to commemorate the International Day of Women and Girls in Science, I wrote about my own personal experience as a female scientist, and the importance of recognising that science is universal and does not discriminate by race, age and, in this particular case, gender.
One year later, in 2023, the picture is gradually changing. In the news, in the press, in conversations on the street, even in music, the message is clear: being a male or female is not a special condition, we all have the same rights and duties, and should be treated equally.
This time, speaking of science, I would like to highlight what is happening at IMDEA Materials Institute, which is where I work and which I consider my basic ecosystem. We can highlight that, in 2020, the percentage of women in IMDEA Materials was 32.5%. In 2021, that rose slightly to 33.5% and, in 2022, it increased even more to almost 37%.
Thinking about a day like this and to see the strength of women brought together in one place, we decided to capture with an image (see below) the critical mass that we women make at IMDEA Materials. An image speaks more than a thousand words, and at that moment, we captured a moment in history. We are all part of a collective that shows that we are important and that we can perform with versatility in different fields.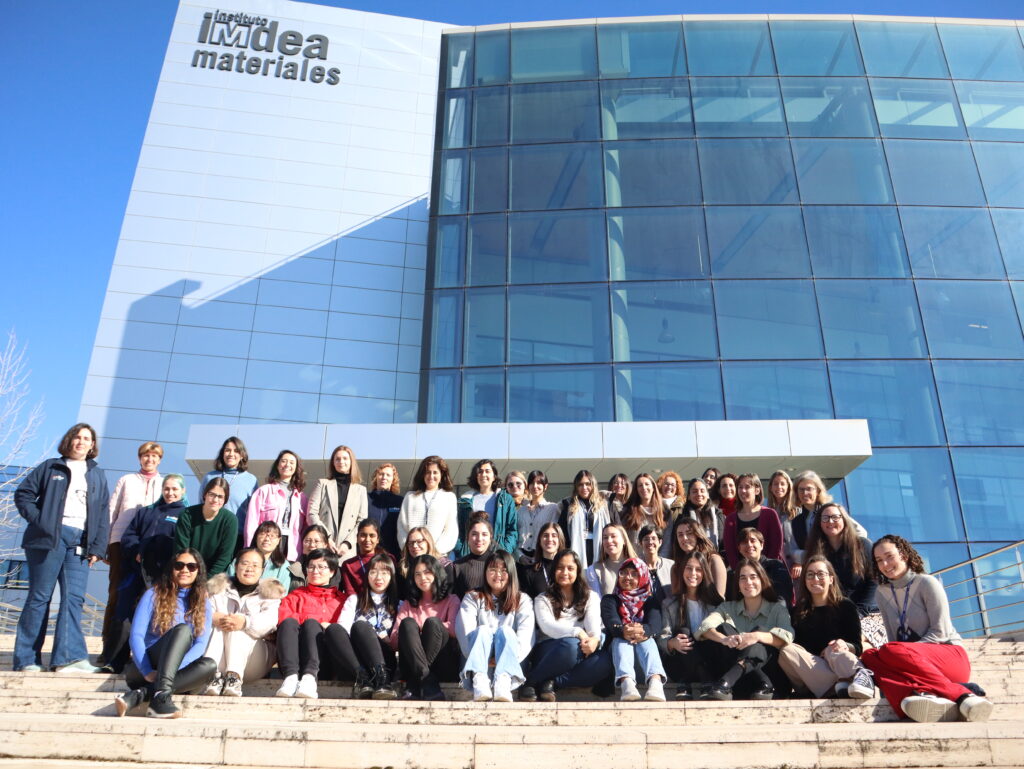 The female presence at IMDEA Materials is unmistakable, and unavoidable. When arriving and receiving a greeting from Pilar, when feeling the concern of Cristina, Juana or Gema, or in the laboratories watching Maral, Yuyao, Shuanglan, Xiaolu or Carolina working. Mar with a calculator, Vanessa or Silvia with invoices.
At the computers watching Eugenia, Christina and Carmen running advanced simulations. Anastasia, and Jimena operating complicated equipment or Monica, Selene or Veronica discussing project strategies. If you stop by the main laboratory, you will be impressed to see Shruti or Saumya printing three-dimensional parts or Lucia working with a robotic arm. Don't be surprised to see Amalia, Vanessa and Monica working on a machine bigger than they are, and helping to process samples.
Blanca and Carlota who, although they may look young, are masters of making sure everything is in its place, and are also very good at working with cells. Don't be surprised if you see Alicia with a screwdriver or a ladder solving problems in the building; and suddenly you might hear Mariana with the microphone announcing an event. If you pay attention, you might even find Teresa or Jennifer in one of their meetings with their research groups.
And don't miss Lola, racking her brains reconstructing and interpreting images from a particle accelerator. Or you might catch Covadonga in the director's office, helping to make important decisions. Blanca, Monica, Selene or Veronica discussing strategies to attract new projects. And you might even come across Rosa, Cecilia and Ainhoa looking to improve the working conditions of the employees.
I know there are many names left out of the list, of course! But as mentioned earlier, the picture above speaks 1000 words. In summary, to those who are reading this, I want to give you the good news that today is an important day because our work is recognised. As my countrywoman says, "Women don't cry anymore; they cash in."